Get in-house Coding, Counting, Contracting, Costing, National Tariff expertise at the fraction of a full time employee cost but with all the benefits of ongoing nationwide practical client experience covering CCGs, CSUs, Hospitals and NHS England.

Includes access to our bite sized training sessions, catalogue of webinars and online training courses (see right) and our cost benchmarking software (see below).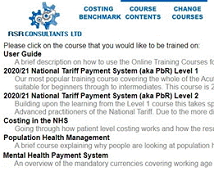 Our live bite sized training sessions (around an hour to two hours) are extremely popular (July saw 10 events, over 500 people trained and avg feedback of 8.9/10). At the moment to attend our training sessions you need to be either:
a full retainer client,
a training retainer client, or
one off purchase
This is backed up by a growing catalogue of webinars to be watched at any time.

We also have online training courses (Level 1 (with exam) and Level 2 National Tariff, Mental Health, Costing, Population Health Management) available to retainer clients or as a stand alone service for £1500+VAT a year for unlimited users (per organisation).

There is also the option for us to create a series of webinars specifically for you so that a range of linked topics can be covered on a weekly/fortnightly/monthly basis.
Unique software that automatically detects statisitically significant changes in coding and counting practice.
Tailored service to meet your needs building on 18 years NHS experience.